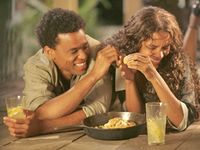 Oprah Winfrey presents..."Their Eyes Were Watching God" starring Halle Berry on March 6, 2005 9/8c on ABC.
I am always worried when a novel comes to life in a movie. It never represents what I envisioned. And I hate to be like, "hmm...that's not how I pictured it."
And more importantly, I like that books are left up to the readers own illustration. Nobody needs to tell me what
Raymond Tyler
looks like. I know him.
And in most cases, books need no other interpretation anyway. Yet, the fact of the matter is that in this society great stories are oftentimes never told to the masses when left in written form.
How many truly avid readers do you know? I am even embarrassed at how little I have read in the past few years. For me, it is hard for a book to compete with reality tv. That's my guilty pleasure. So, in essence, I understand the lack of readership.
DEATH TO TELEVISION!
Nevertheless, soon to come is an interpretation of Zora Neale Hurston's
Their Eyes Were Watching God
presented by Oprah Winfrey. I personally revelled in
Beloved
. I thought it was true to Toni Morrison's work. So, I trust that I can count on Oprah to do any novel justice on the small or big screen. Especially this one.
Plus, the
previews
have gotten me all too excited. I just cannot imagine how the flood scene is gonna work?!